A visit to the Headquarters of the Great Orchestra of Christmas Charity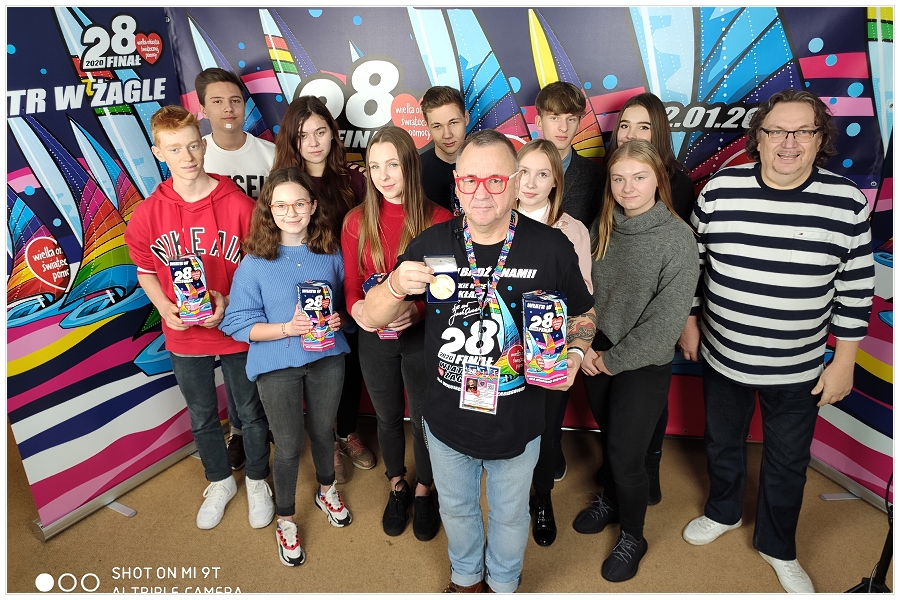 On Monday, December 16, a group of young people - orchestral volunteers from our high school - took an Intercity train to Warsaw to meet at the Great Orchestra of Christmas Charity Foundation with its Conductor, Jurek Owsiak and help in preparing badges - we have been doing this for several years just around mid-December.
In the heat of work, we received a message that Jurek was waiting for us. We ran upstairs, i.e. the second floor, and there we met the Chief. And another surprise, Jurek showed us the official replica of the Nobel Medal, a gift from our great Nobel Prize winner Ms. Olga Tokarczuk, auctioned during the 28th Final just one day earlier.
A moment of conversation between young high school students from Wańkowicz with a man thanks to whom each of us can feel what the magic of playing together in the largest orchestra in the world, autographs on gadgets, collecting ready ID badges and... Not yet, however, because we met Mrs. Lidia Owsiak on the first floor, the wife and good soul of Jurek, and the director of medical affairs of the foundation.
After an eventful day, we returned home quite quickly thanks to Intercity.
Who would like to join us next year?

BACK