Workshops for Teachers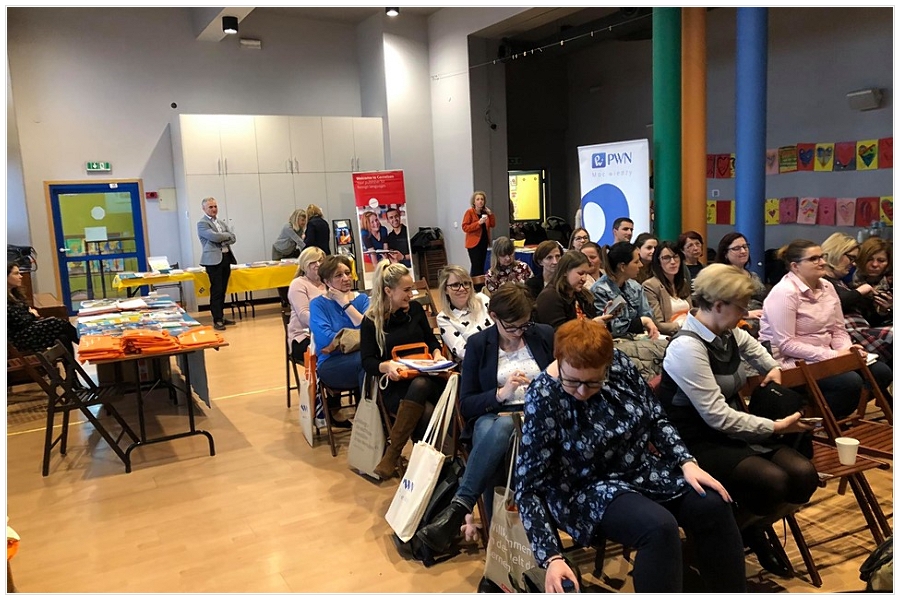 On March 3, 2020, methodological workshops were held at the Complex of Private Schools in Katowice. German language teachers from the Silesian Province took part. The meeting was organized by Małgorzata Bubik, MA - our school's teacher and the president of the Katowice Branch of the Polish German Language Teachers Association.
The workshop was opened by the Headmistress, Mrs Jolanta Kałuża, then the plans for 2020 were discussed by Mrs Małgorzata Bubik. Pearson and Hueber publishers presented interesting publishing offers. In addition, Ms Agata Borek, PhD from the Examination Center of the Goethe Institute "Structura" talked about preparing students for Goethe-Zertifikat A1 - B1 (Writing module).
Interesting and informative lectures were given by representatives of publishing houses: Ms Dorota Jeżewska, MA - representing the PWN School Publishing House, Ms Anna Rosół, MA from the Lektorklett publishing house, Ms Beata Hadasz, MA - representative of the Cornelsen publishing house, as well as Ms Barbara Czwardos, PhD (Regional Teachers' Training Centre in Katowice) and Ms Dorota Szewczyk, MA (Teachers' Training Centre in Sosnowiec). At the end of the workshop, a meeting of Polish German Language Teachers Association Katowice Branch members was held.
All speeches were heard with great attention. We would like to thank our speakers! Throughout the day, participants of the methodological workshops could familiarize themselves with the publishing offer of the guests.
The next methodological workshop will be held on September 22, 2020.
We cordially invite you today!
BACK