"Breakfast of Champions"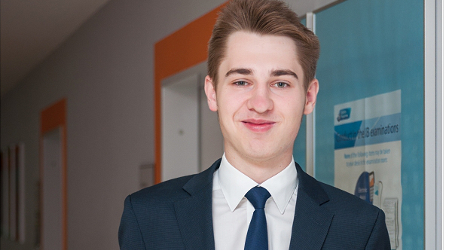 A student of 1DP class of Melchior Wańkowicz Private High School in Katowice, Maximilian Harnot, reached the final stage of 38. National Contest in German Language. The enormous success is both Max's and his teacher's, Mrs Małgorzata Bubik's, achievement. The final of the contest took place from March 27th to March 29th 2015 in Samuel Linde University of Foreign Languages in Poznań. Congratulations to Max and his teacher.
In order to acclaim Maximilian Harnot's achievements, Silesian Board of Education and University of Silesia invited him to a prestigious meeting. The participants of "Breakfast of Champions" are students who received a scholarship from the Ministry of Education and laureates of contests, along with their teachers. "Breakfast of Champions" has got a rich history. It was first organized in 2008. Meetings with the most talented students of Silesian schools take place twice a year: around Children's Day – with laureates of competitions and around Christmas - with laureates of contests. Congratulations to Max for participating in such a prestigious event.
BACK