Evening with Christmas Carols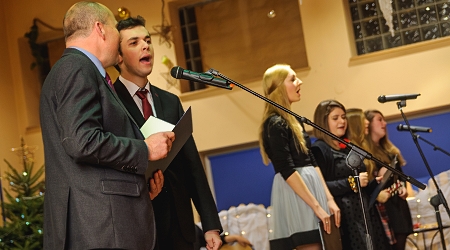 Just before Christmas, on December 22, the whole community of Wańkowicz Private High School gathered together to celebrate an evening with Christmas carols - different from other ones, yet equally sparking. We listened to bygone and contemporary carols, all of which were absolutely mesmerizing. Also, we celebrated the memory of those who are no more with us and honoured those for whom Christmas time is not the time of joy and peace. We wished Merry Christmas and a Happy New Year to each other. Thanks to everyone who contributed to organizing that wonderful evening: Michał Berus, Julia Turek, Anna Michalska, Natalia Starzec, Mr Grzegorz Machalica and Ms Kasia Wróblewska, whose remarkable skills in music enchanted the evening.
Special thanks goes to Mr Jeff Shiffman for the intriguing show, prepared together with IB students.
BACK