Online Workshops "Meine Mama ist die beste!"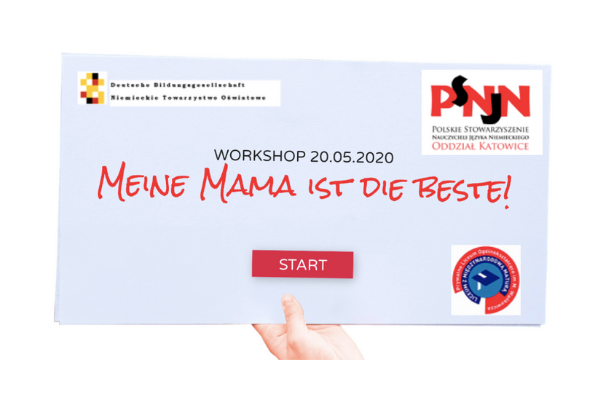 On May 20, at the Melchior Wańkowicz Private High School in Katowice, where the headquarters of the Polish Association of German Language Teachers, Katowice branch, is located, the FIRST ONLINE HOSPITATION WORKSHOPS FOR STUDENTS OF CLASSES 1-3 OF PRIMARY SCHOOL took place, which were attended by 15 schools, almost 70 students and teachers from the Silesian and Opole Voivodeship, and even one school from Łódź. The workshops are based on an innovative method of hospitation, in which students and teachers are included. This form of cooperation allows to expand knowledge and share ideas. During classes, students actively participate, while teachers observe. Each teacher receives a certificate of participation in the project and a lesson plan which can be carried out at their school.
In the age of distance learning, encouraging students to study has become even more difficult. It is even more difficult to encourage students to be active when they cannot see themselves and participate in workshops with people they do not know. "Meine Mama ist die beste!" workshop started with the riddle "what's underneath?" The students had to look carefully and guess which picture is underneath and say it in German. While repeating the names of family members, students used the game on learningapps.org, where they had to assign the name of the family member to the article. The solution was a picture that presented the topic of the workshop - Mother's Day. The speaker prepared a presentation on genial.ly where she posted information about Mother's Day in Germany and Poland. Using their knowledge, students solved a quiz created on wordwall.net, showing which gifts can be given to mothers on their holiday. Then, the workshop participants listened to the song "Meine Mama ist die beste!" and worked together to solve the quiz, during which they learned the meaning of the song's lyrics. It was a real challenge for students, prepared on learningapps.org. Students willingly took part in the tasks proposed by the speaker.
Thank you all for your willingness to participate in this amazing project. We wish you perseverance and creativity in these hard times.
BACK