The fifteenth anniversary of Wańkowicz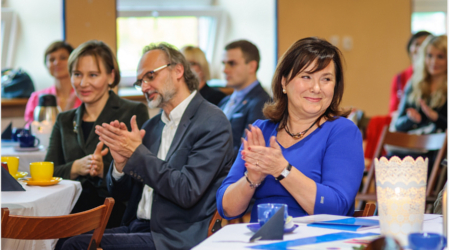 It is difficult to believe that fifteen years passed so quickly. Twelve age groups have already passed Polish high school final examination – matura, and seven age groups accomplished International Baccalaureate Programme. We have decided to celebrate this anniversary on October 17th 2015. It required two months of preparations that included sending out invitations, ordering posters, pictures, choosing catering and a cake. We have prepared a cabaret show as well.
Finally, the expected day came – October 17th. It was a little cloudy but unusually warm as for this time of the year. Our guests showed up about 1pm, and among them there was a vice-rector of Pedagogical University in Krakow - PhD Jerzy Waligora, all our alumni, students and teachers. The official part of our celebration has started at 2pm with singing the school anthem followed by a very personal and touching speech given by our principal and founder – Mrs. Jolanta Kaluza. Next, speakers submitted congratulations and best wishes, among them our graduate and the researcher at the University of Economics in Katowice – Kamil Kawecki, mentioned earlier professor of Pedagogical University in Krakow and the principal of Private Academical High School in Krakow – Mr. Jerzy Waligora and the chairman of the Students Council – Kamila Sawicka.
After a short break, we started our show that was prepared and directed by Mr. Janusz Wozniak. Using well known art pieces, we performed a very thoughtful spectacle that made the heart to beat faster, at the same time we honored our Founder and the Creator of our high school. Judging by the reactions of the audience and acknowledgments received after the performance, we are entitled to think we have succeeded. It is worth to recall those, who were greatly engaged in this big event: Janusz Wozniak, Katarzyna Papas, Katarzyna Wroblewska, Izabela Gorol-Wilk, Monika Musialik, Urszula Gornik-Bednarska, Beata Kluskowicz, Aleksandra Weglarzy, Anna Michalska, Natalia Starzec, Julia Turek, Michal Berus, Kamil Sewera and Sebastian Kawka. Their engagement and hard work was greatly appreciated. Some even said it was the best show they have ever seen. Thank you for those words and we are already planning 20th anniversary of Wankowicz High School.
BACK